Ezekiel Bread - Video Recipe
---
Recipe Demonstration - part 1
with
Anitra Kerr
Recipe Demonstration - part 2
with
Anitra Kerr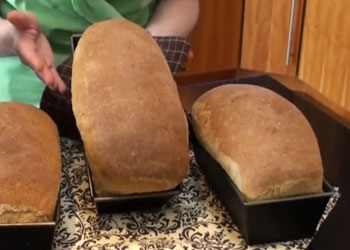 Delicious Homemade Ezekiel Bread
About the Ezekiel Mix
with
Anitra Kerr
Make Your Own Ezekiel Mix
Ingredients:

12 cups Barley
12 cups Rye or Spelt
4 cups dry Lentils (preferably Green Lentils)
4 cups Millet
4 cups dry Pinto Beans
3 cups dry Soy Beans

Directions:

In a large bowl, combine all the ingredients above and mix together thouroghly.

Put in a large, sealable container for later use.

This Ezekiel Mix can also be purchased from Anitra's store.

Ezekiel Bread Baking Directions
Ingredients:

7 cups Wheat Kernels
1 cup Ezekiel Mix
1000 mg. Vitamin C Tablet
5 cups Warm Water
1/2 cup Honey
1/2 cup Butter (slightly softened)
2 tbsp. salt
3 tbsp. Saf Yeast
1/2 cup Vital Wheat Gluten

Directions:

In a WonderMill electric grinder, grind 7 cups wheat kernels, 1 cup Ezekiel Mix, and 1000 mg. of Vitamin C to make the Ezekiel flour.

In a large mixing bowl, combine 5 cups warm water, 1/2 cup honey, 1/2 cup butter, 2 tbsp. salt, and 4 cups of Ezekiel flour. Stir 1 minute. Then add 3 tbsp. Saf Yeast, 1/2 cup Vital Wheat Gluten, and finally, the rest of the Ezekiel flour, adding one cup at a time till well incorporated.

Knead dough on medium speed for 10 minutes, or until dough is soft, smooth, and elastic. Cover dough, and allow it to rise 30 minutes. Preheat oven to 150. Divide dough into 4 even loaves, turn off the oven, and place loaves in prepared bread pans.

Place pans in the oven, and allow to rise again until doubled in bulk. Turn oven to 350 degrees, and bake for 40-45 min. until loaves are golden. Cool completely before storing or slicing.

Enjoy!