Sprouted Grain Bread - Video Recipe
---
Recipe Demonstration
with
Anitra Kerr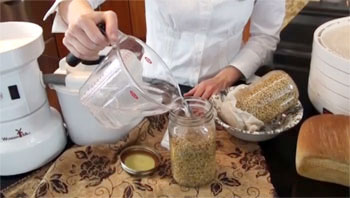 Delicious Homemade
Sprouted Grain Bread
Making Sprouted Grain Flour
Ingredients:

6 cups grains (combination of spelt, kamut, wheat of your choosing)
Water

Directions :

Fill four 1 quart jars 2/3 of the way full with your dry grain combination and then fill each jar with water.
Cover the jars and allow them to sit overnight to absorb the water.
In the morning, rinse the grains, and add more water.
Cover each jar with a piece of cheesecloth, secured with a rubberband, and turn the jars upside down at an angle so the water is free to drain.
Rinse the grains several times a day to keep them moist, again tilting the jars down at an angle to let the water drain.
After 24 hours of rinsing and draining, or when you see the kernels beginning to sprout a small white tail, spread the sprouted grains onto mesh dehydrating trays to dry.
I usually use 4 or 5 trays to dry all of the grains. Dehydrate overnight or up to 12 hours, making sure that the grains are completely dry.
Now you're ready to grind the sprouted grains into flour to make your bread.

Sprouted Grain Bread Baking Directions
Ingredients:

Sprouted Grain Flour (made from above directions)
4 cups Hot Water
2 tbsp. Sea Salt
1/2 cup Rolled Oats
1/2 cup Xagave (or Honey)
1/2 cup Powedered Milk
1/2 cup Oil
1/2 cup Vital Wheat Gluten
2 tbsp. Saf Yeast

Directions:

In a Bosch mixer, combine 4 cups hot water with salt, oats, Xagave or honey, powdered milk, oil, and 3 cups of your sprouted grain flour.
Mix until well blended, 20 seconds.
Add vital wheat gluten and yeast.
Continue adding more flour until your dough begins to clean the sides of the bowl. Use between 6 and 8 cups total. Be sure not to add too much flour, or your dough will be stiff and dry. The more soft and elastic the dough, the better.
Continue to knead on medium speed for 12 minutes until the dough is soft and elastic.
Cover the dough and allow to rise until doubled, about 35 minutes.
Turn the dough out onto a lightly oiled surface, and divide into 3 loaves.
Place the loaves into 3 lightly greased bread pans, and allow to rise until doubled, about 30 minutes.
Bake in a 350 degree oven for 35-40 minutes or until the loaves are golden.
Cool in the pans for 10 minutes, before removing from the pans.
Enjoy!