Rosemary Dill Bread - Video Recipe
---
Recipe Demonstration
with
Anitra Kerr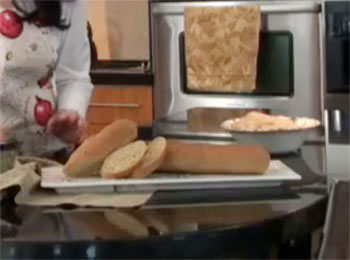 Delicious Homemade
Rosemary Dill Bread
Rosemary Dill Bread Recipe
Ingredients:

4 cups hot water
1 cup buttermilk (or 1 cup water and 1/3 cup buttermilk powder)
1/4 cup oil
1/4 cup honey or Xagave
2 tsp. sea salt
8 cups wheat flour
2 tbsp. instant Saf yeast
2 tbsp. dill
2 tbsp. oregano
1 tbsp. garlic, minced
1/4 cup onions, chopped

Directions :

In a heavy duty mixer, combine hot water, buttermilk, oil, honey, sea salt, onions, and 3 cups flour, Stir till well blended, 20 seconds.
Add the yeast, dill, oregano, garlic, and more flour, kneading and mixing the dough until it's smooth and elastic, and leaves the sides of the bowl, about 8-10 minutes.
Cover the dough and allow to rise 30 minutes.
Shape into 2 large baguette rolls or 4 smaller skinnier ones.(You can also bake this bread in 4 loaf pans or free standing on a baking sheet.)
Let rise again till double. (If you choose, you can cut horizontal slits in each loaf before baking for a more authentic looking artisan bread.)
Bake in a preheated 400 degree oven, dropping the temperature to 325 after 15 minutes.
Bake another 20 to 25 minutes or until loaves are golden brown and sound hollow when tapped.